Portable Gaming PC  
ID & product development process  | launched feb 2022  |  VALVE 
The Steam Deck is a complete, self-contained gaming PC. But instead of a 
PC tower, monitor, keyboard, mouse, speakers and accessories, the Steam 
Deck is self-contained with hardware, controls, and a screen all built within an easy-to-use handheld form factor. 
​​​​​​​
Providing a way for gamers to take their Steam Library with them on the go, with 
a powerful handheld all-in-one gaming PC

.
Steam

is a digital platform created by Valve Corporation to serve as a distributor of PC games. The Steam client allows users to install and store their PC games online directly to their cloud drives after purchase. Steam users are welcome to post their reviews, upload self-made content, buy DLCs, and much more!
The heart of the Steam Deck is its APU. It was collaboratively designed by 
Valve and AMD, and is built to play the most demanding AAA games on battery 
power, 16 GB of RAM, storage
o
ptions ranging from 64GB to 512GB, 
and the option of adding up to 2 TB of additional storage with a microSD card,
.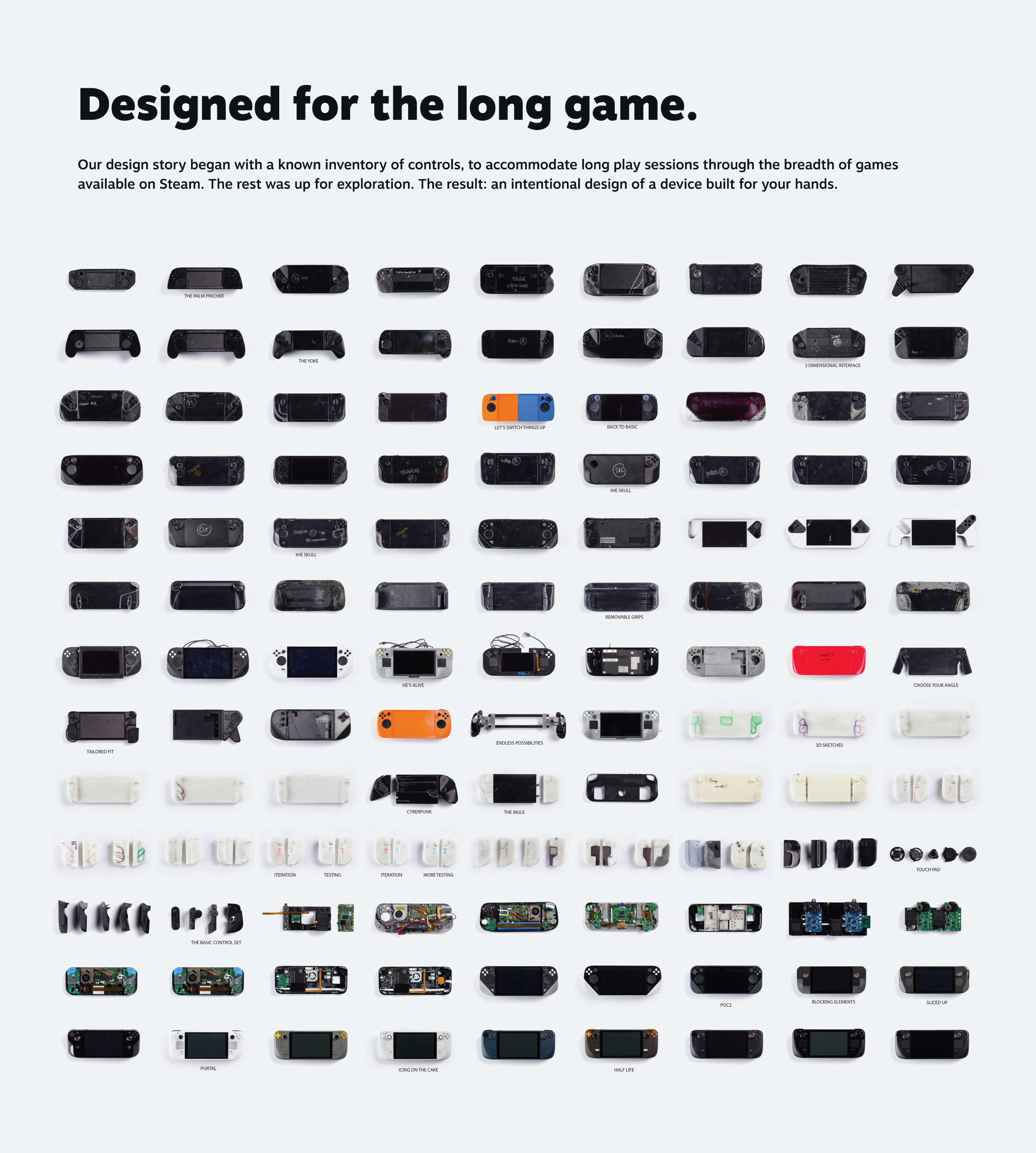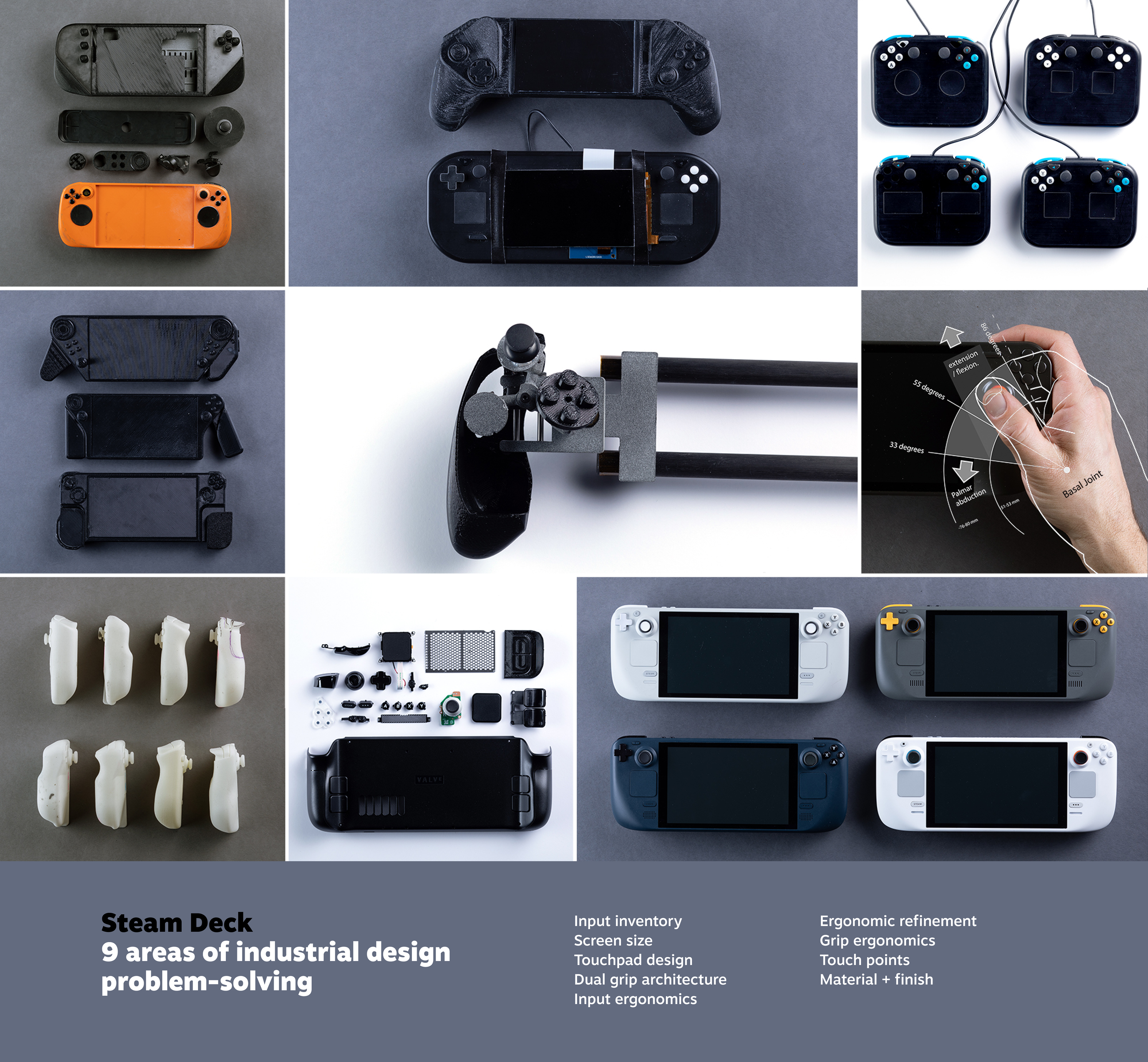 The idea of a Steam Deck began when the Valve hardware team was working on the Steam Controller. Back then there wasn't any hardware that would let us run AAA PC games within a handheld battery power budget. But we knew that eventually the right hardware would be within reach, so Valve began building prototypes.
Steam Deck wouldn't have happened without the products, technologies, and features shipped by the Valve teams over the last decade. Each of those steps provided essential components of what became the Steam Deck experience.
The Steam Controller
required the Steam Input system, which allows players to play any game with almost any controller. This functionality helped make thousands of PC games in the Steam Catalog work with controllers,
The Steam Link
device

helped us create the necessary streaming and networking technologies which later were used in the Remote Play,Remote Play together, and the Steam Link app. These features allow any machine to stream Steam gameplay over the internet, with all the compute happening on the remote computer. This is another core system feature that Steam Deck takes advantage of, allowing for more accessible games and better battery life.
The standalone computers called Steam Machines

helped us learn important lessons about providing OS support for games, as well as what work was required to bring Windows games to Linux. This led us to create Proton, a translation layer that allows Windows games to be played on Linux devices. It's the bridge that allowed us to massively expand the library of playable games on Linux, making Steam Deck + SteamOS achievable.
The Valve Index
gave us valuable experience about designing, manufacturing, and shipping premium products. We learned more about designing complex devices within very tight size constraints, controller ergonomics that suit hands of all sizes, integrating display
technologies etc..
SteamOS
, which powers the Steam Deck, is a full general-purpose operating system, allowing all users to run whatever software they want—productivity apps, game development programs, or literally anything else that can run on a PC. We are excited that Steam Decks will get used for all kinds of things that are impossible to do on other consumer gaming hardware.
By the time we formed our partnership with AMD to work together on a custom APU (combo CPU and GPU), we were ready with a
functional design. Many iterations on ergonomics and control placement.
POC development
Proof of concept builds, control set exploration, display size and overall form factor development, user scenarios.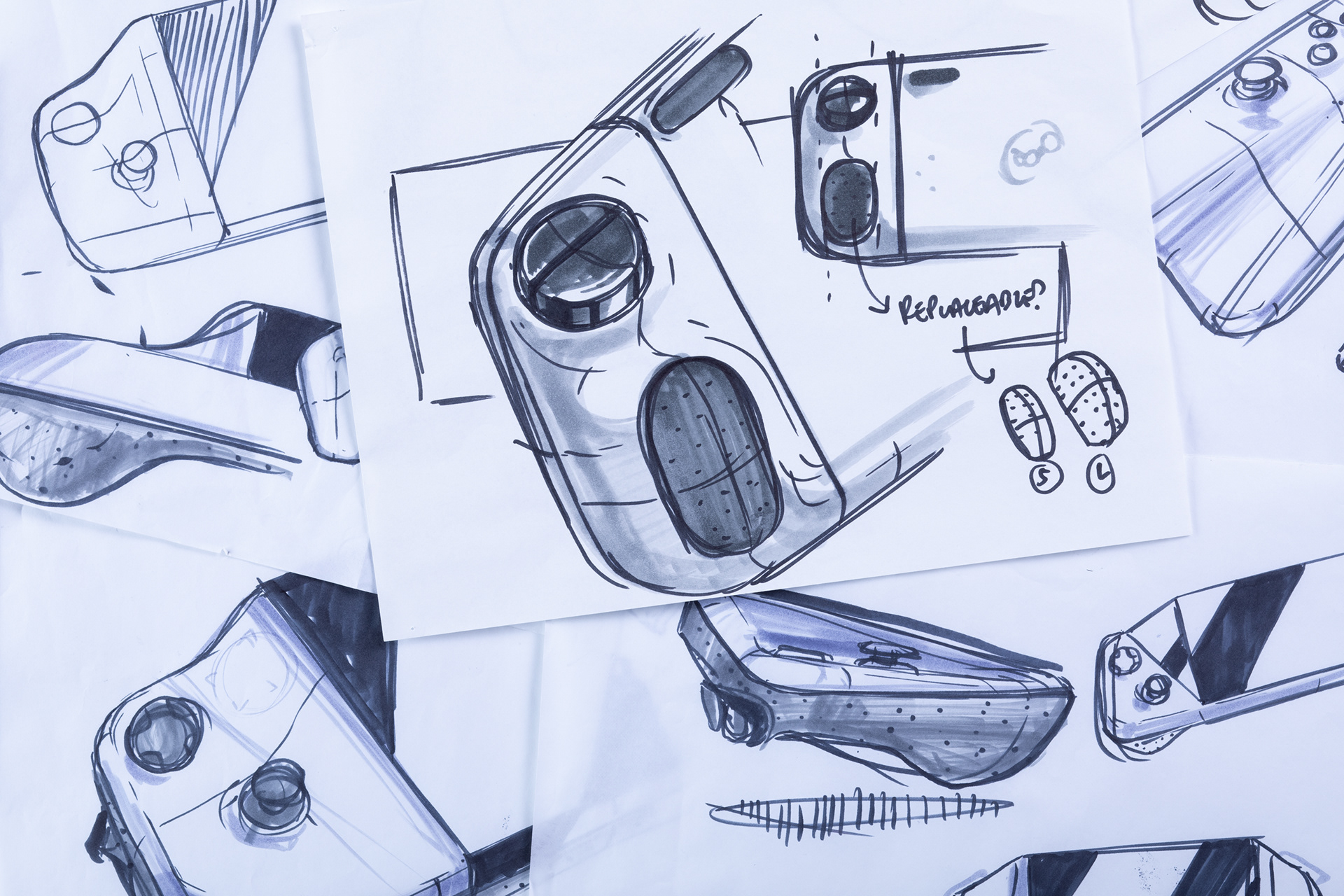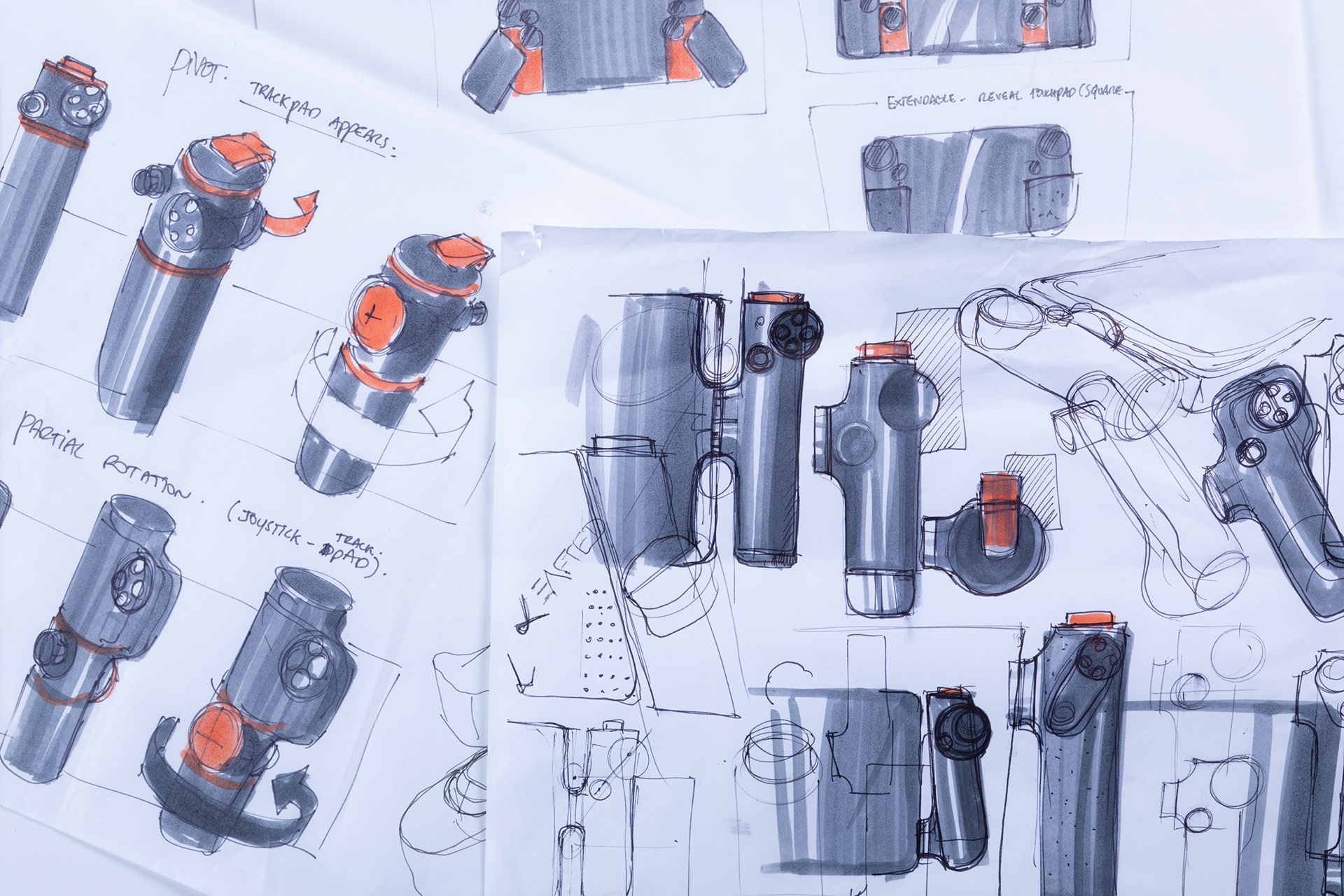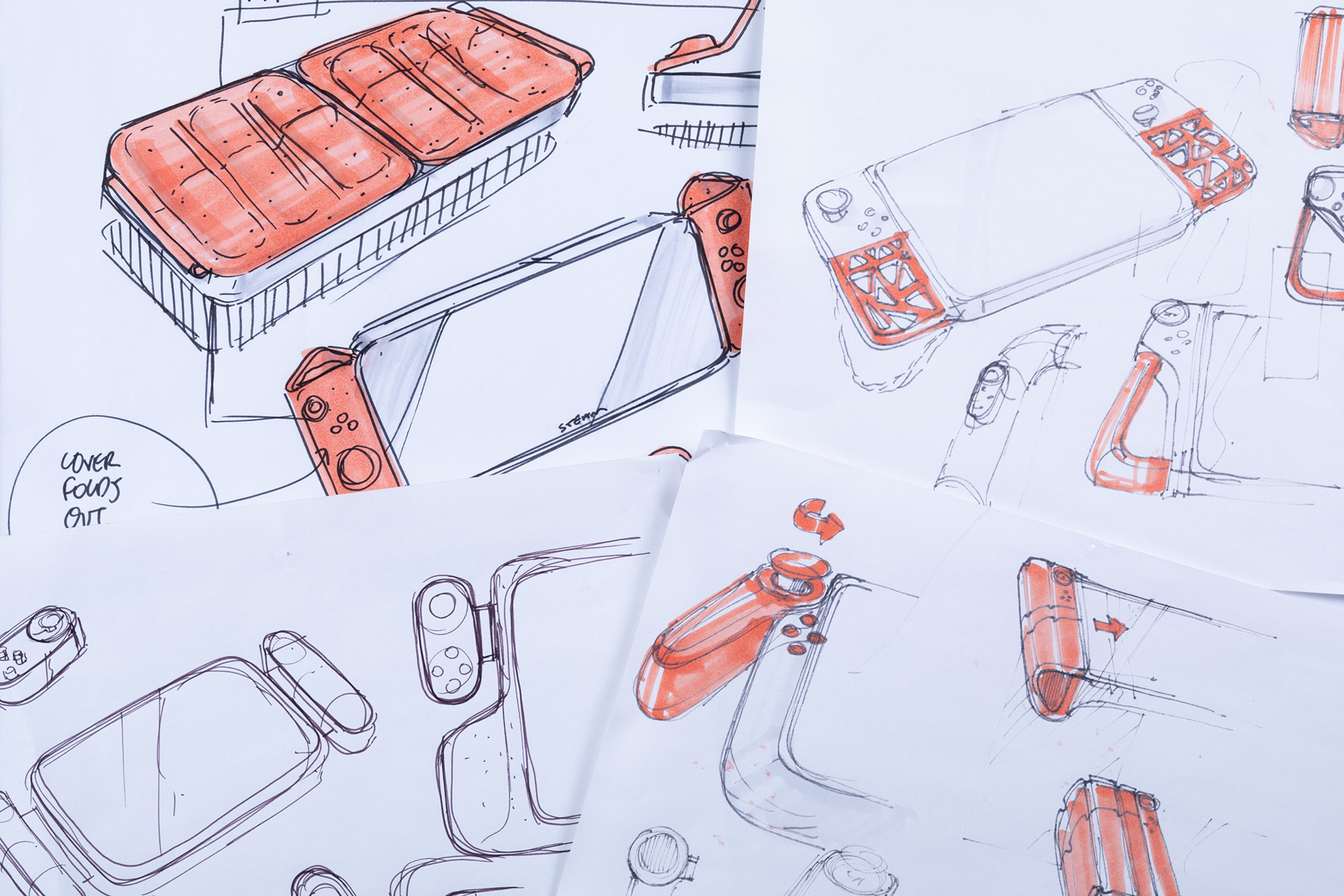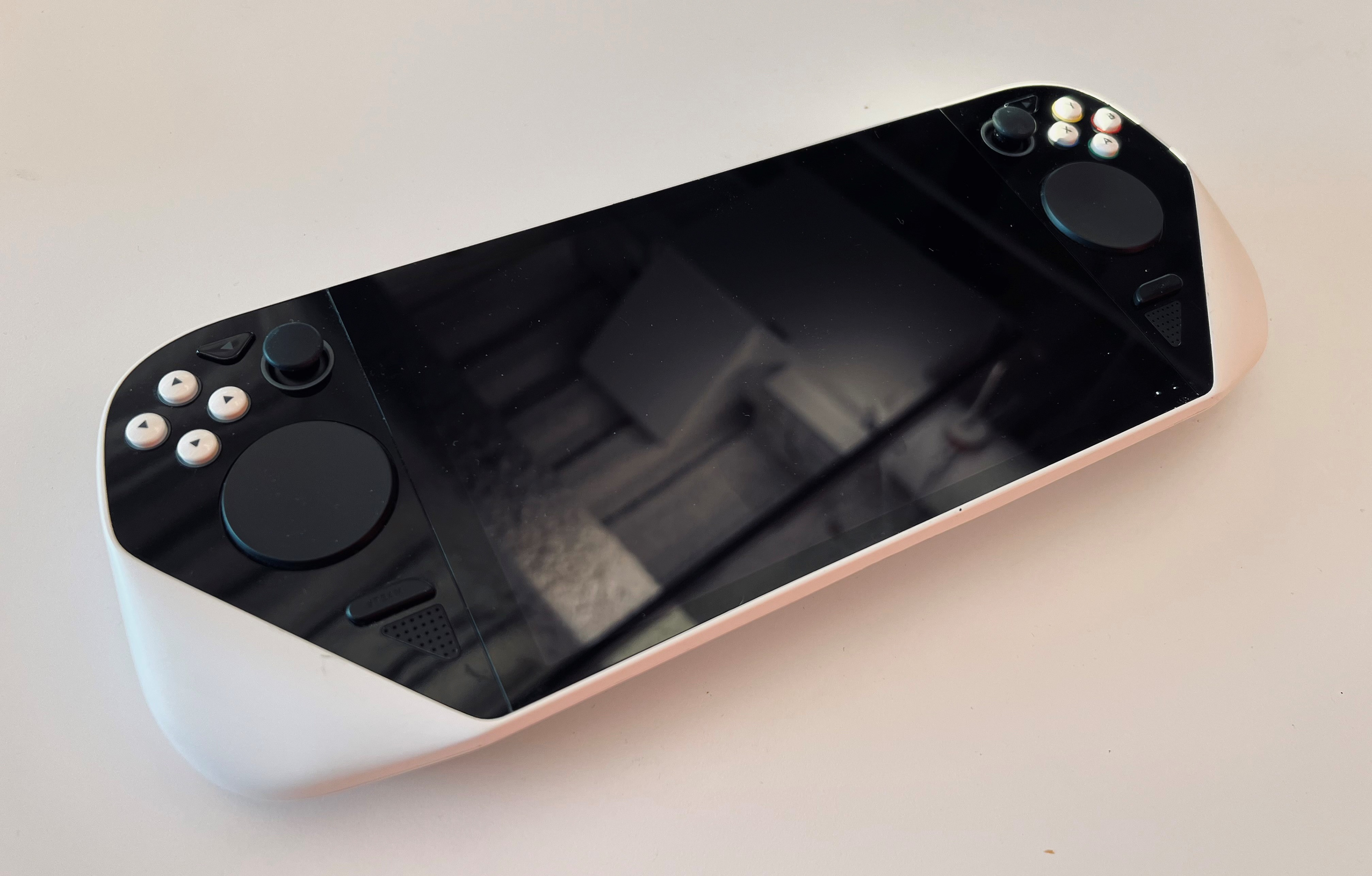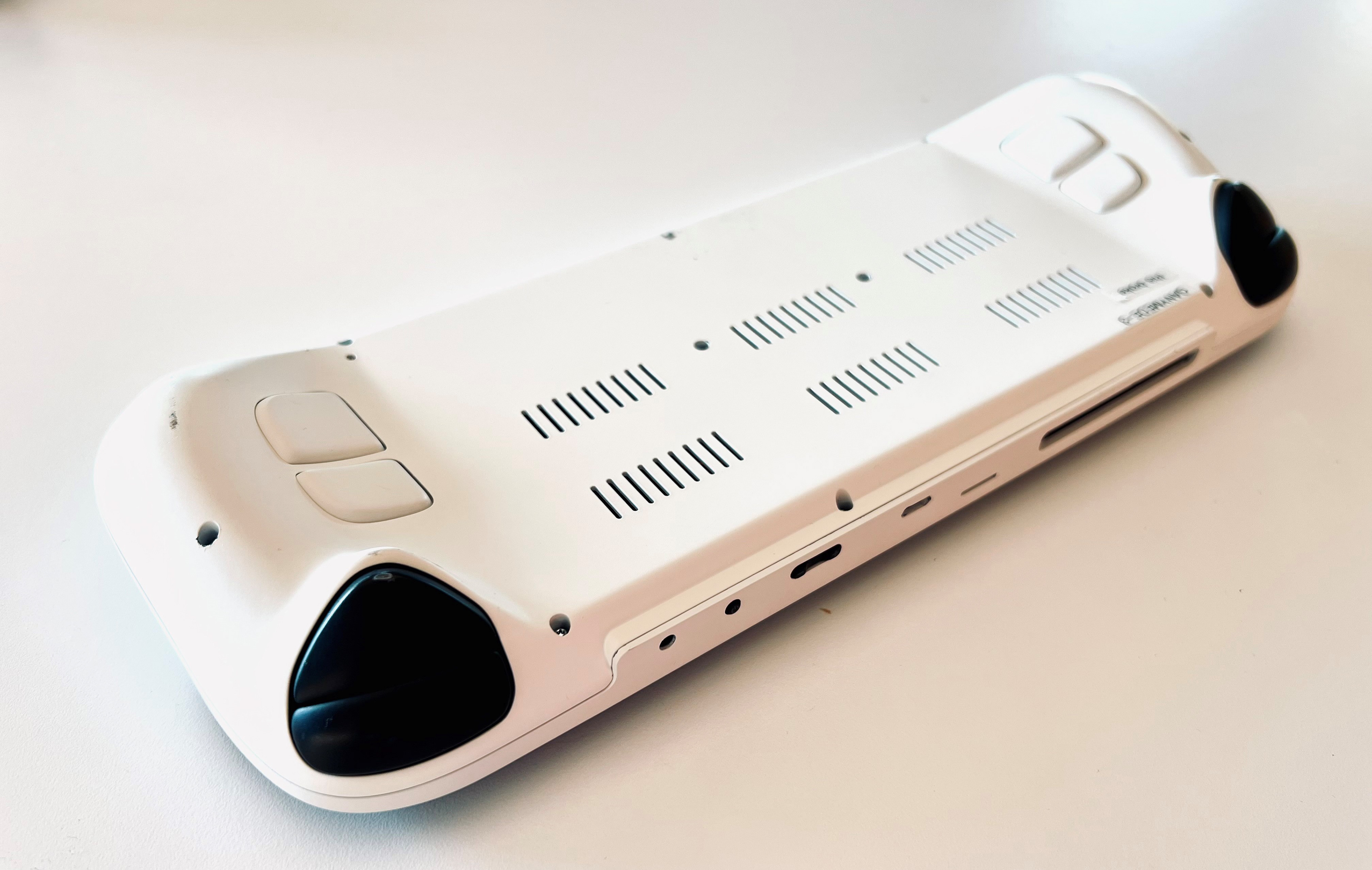 Our very first working prototype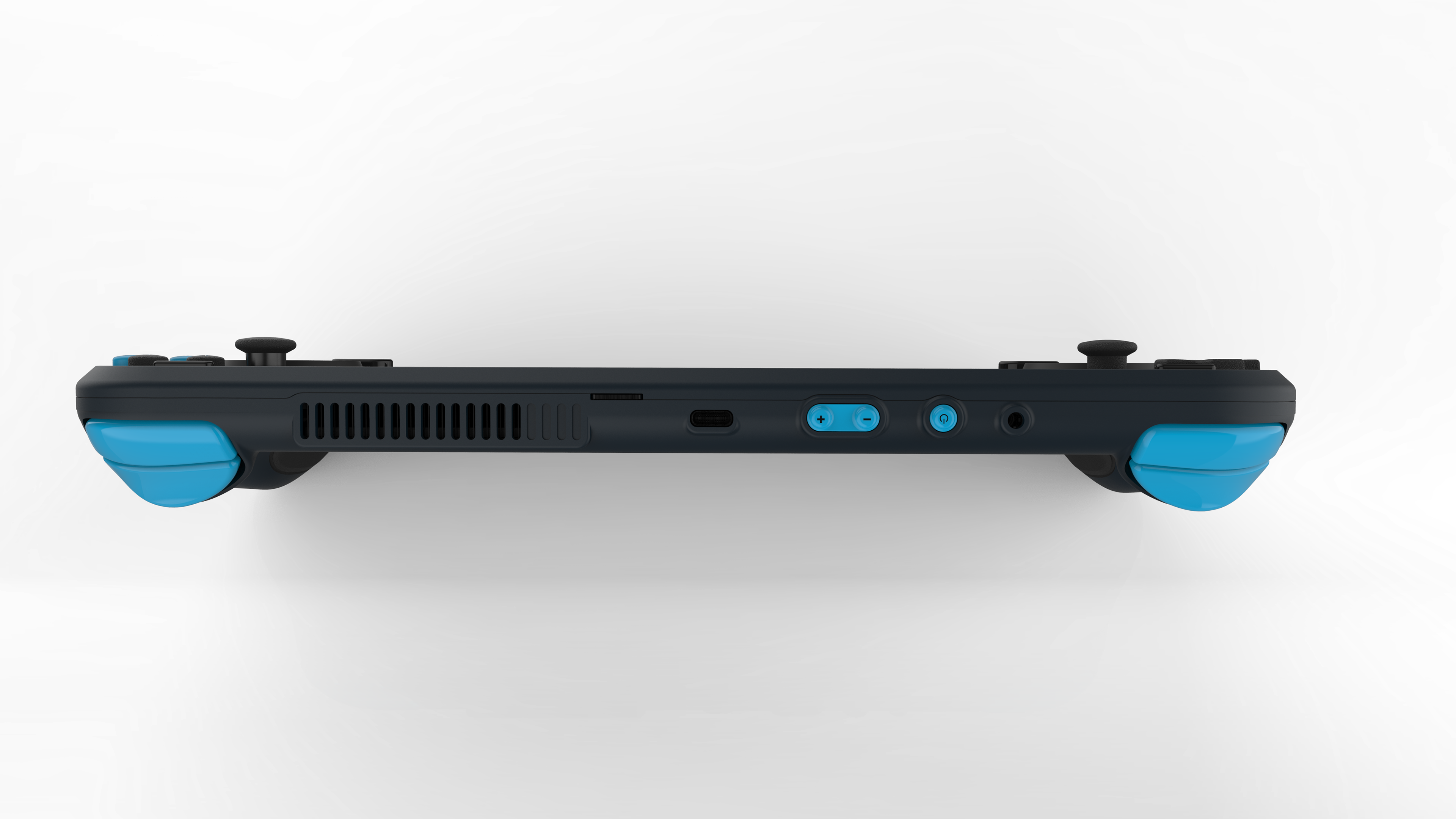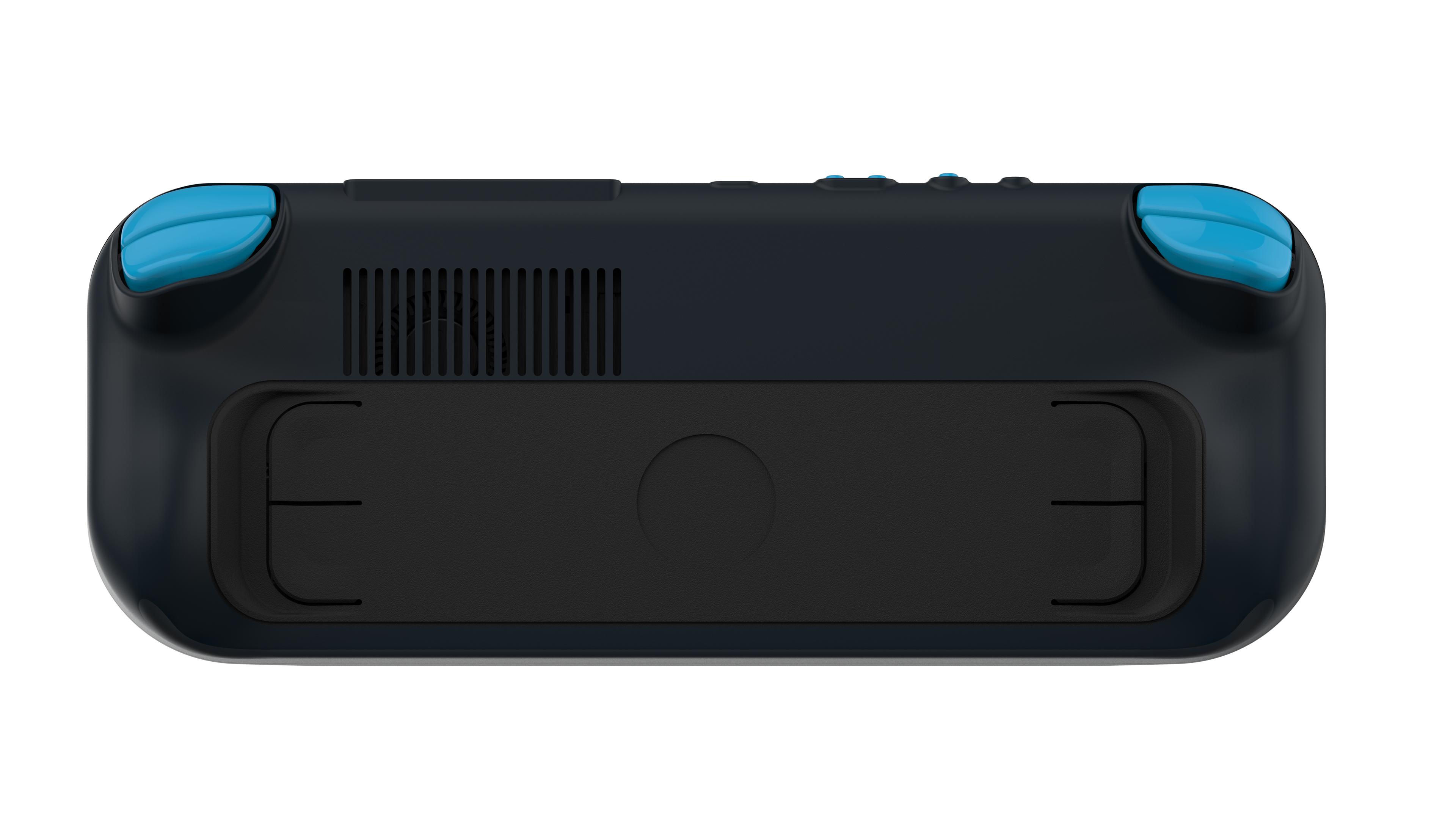 more refined version with a smaller display and updated components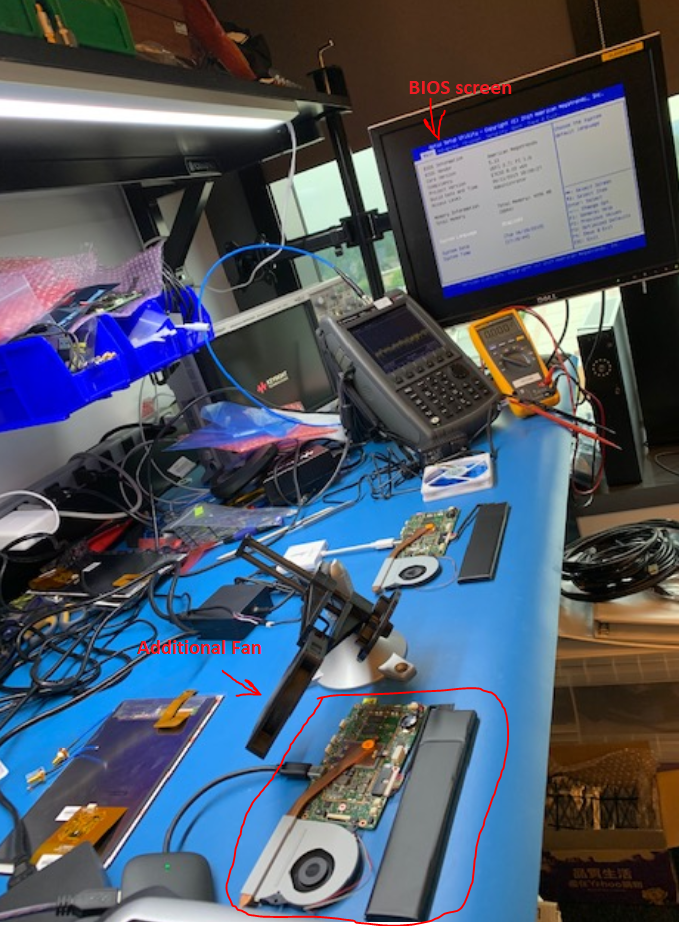 Motherboard and components placement refinement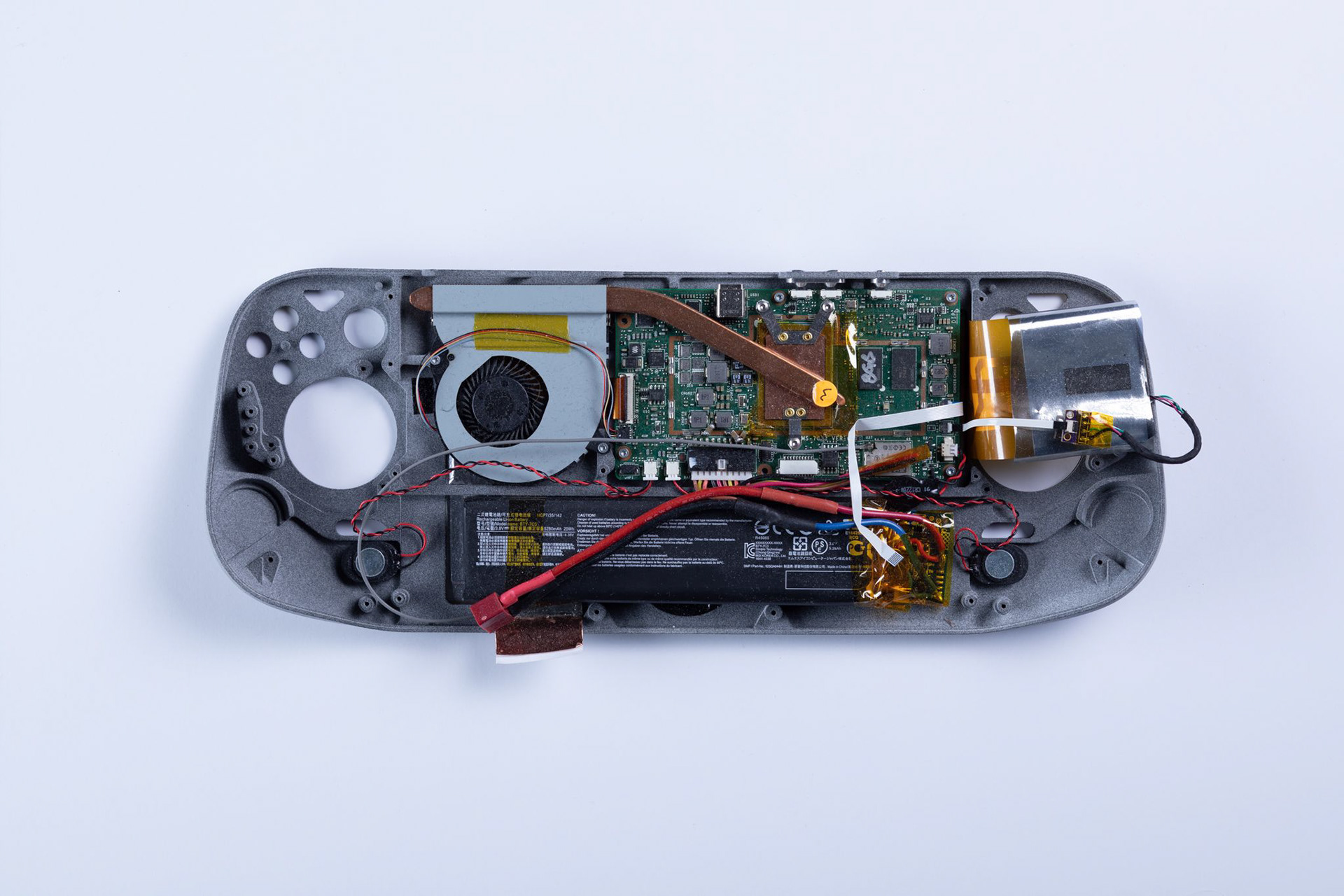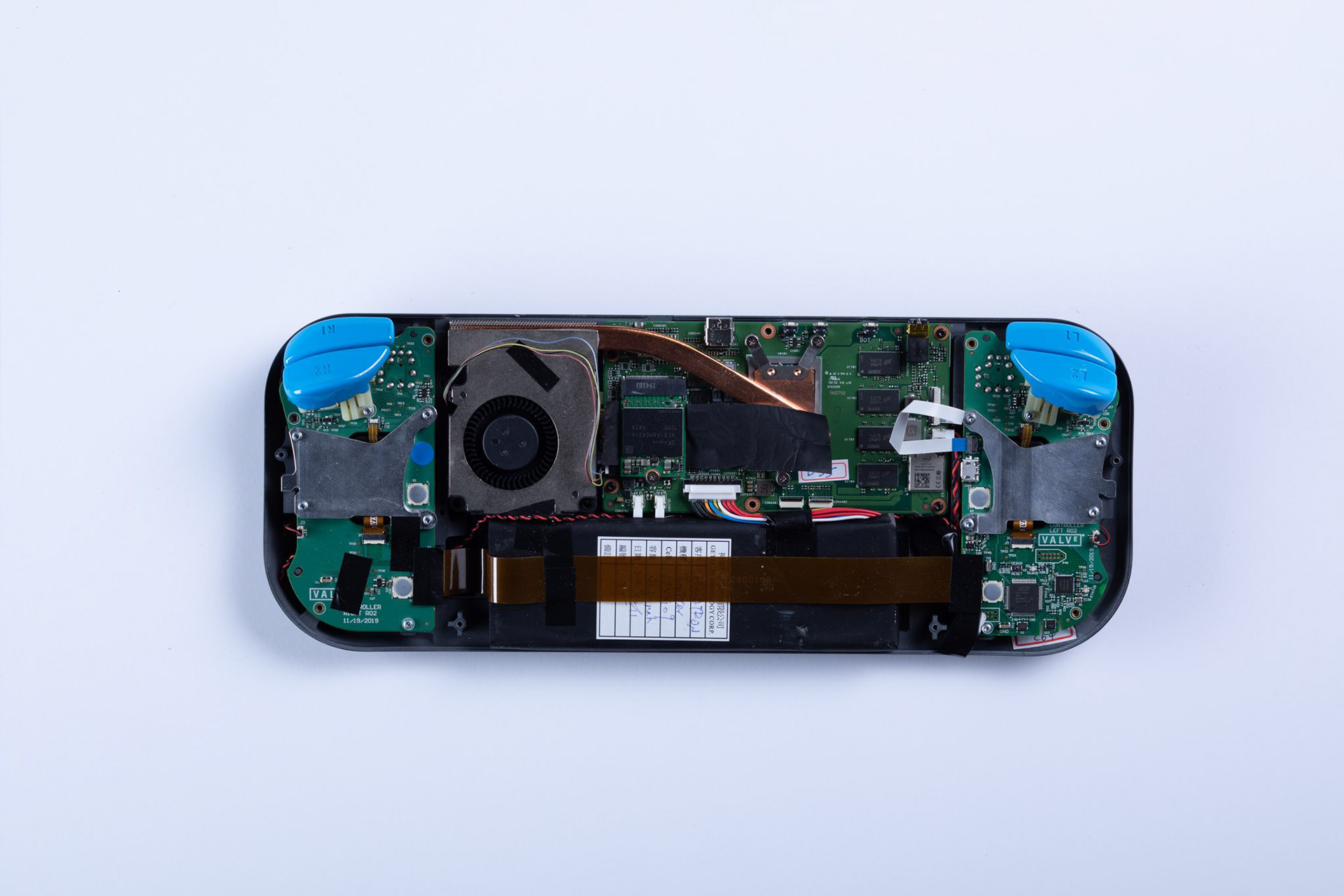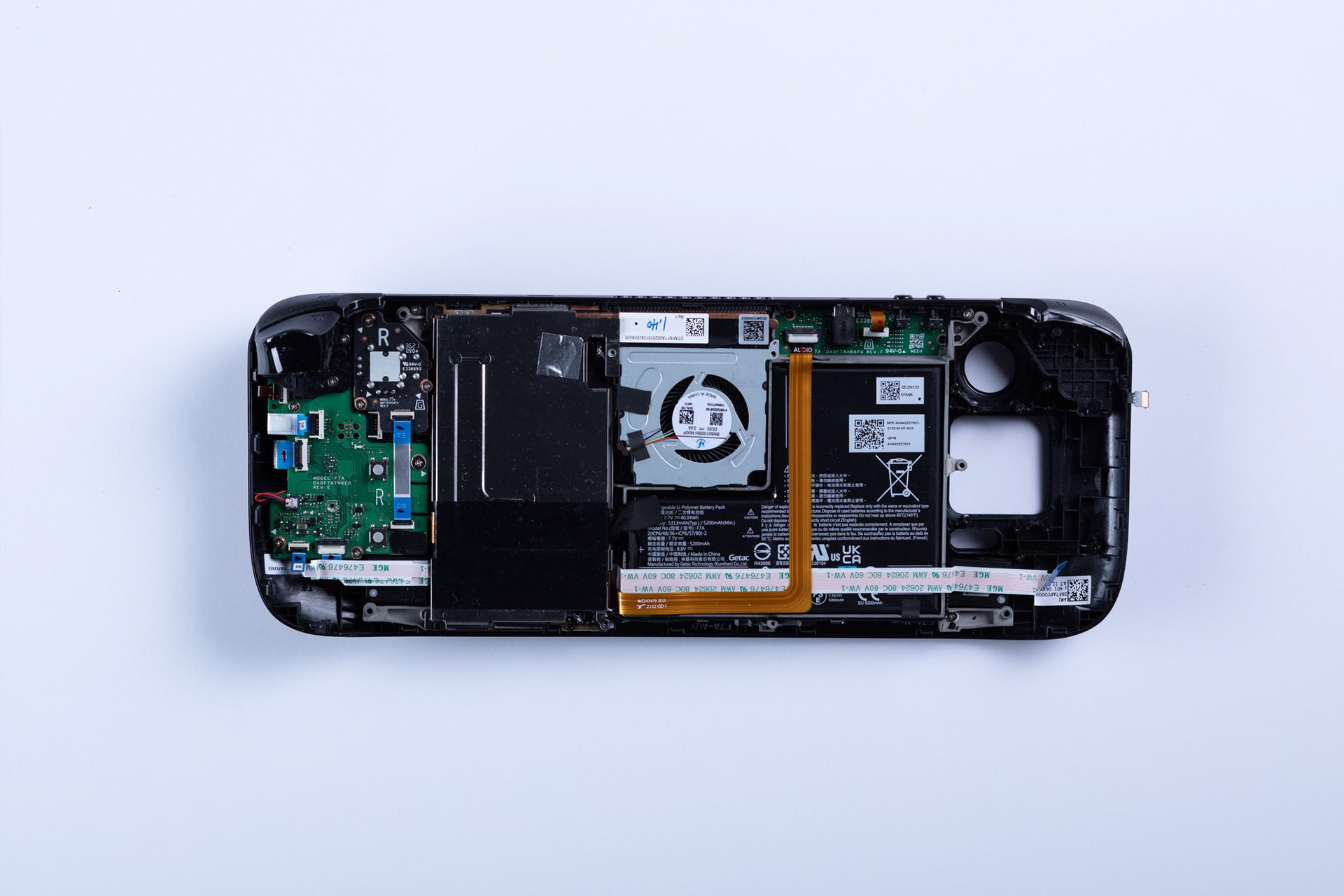 Ergo development
Ergonomic research, testing, components placement, comfort and accessibility 

Once we defined a solid set of controls and ergonomic goals, We spent several months establishing an ergonomic baseline for the Deck handles and inputs, independent of design concerns. 
The final Ergo baseline physically represents an approximate form and input configuration that enables ergonomic usability for 5-95%tile adults.
This ergo baseline has served as common reference in developing three different design concepts.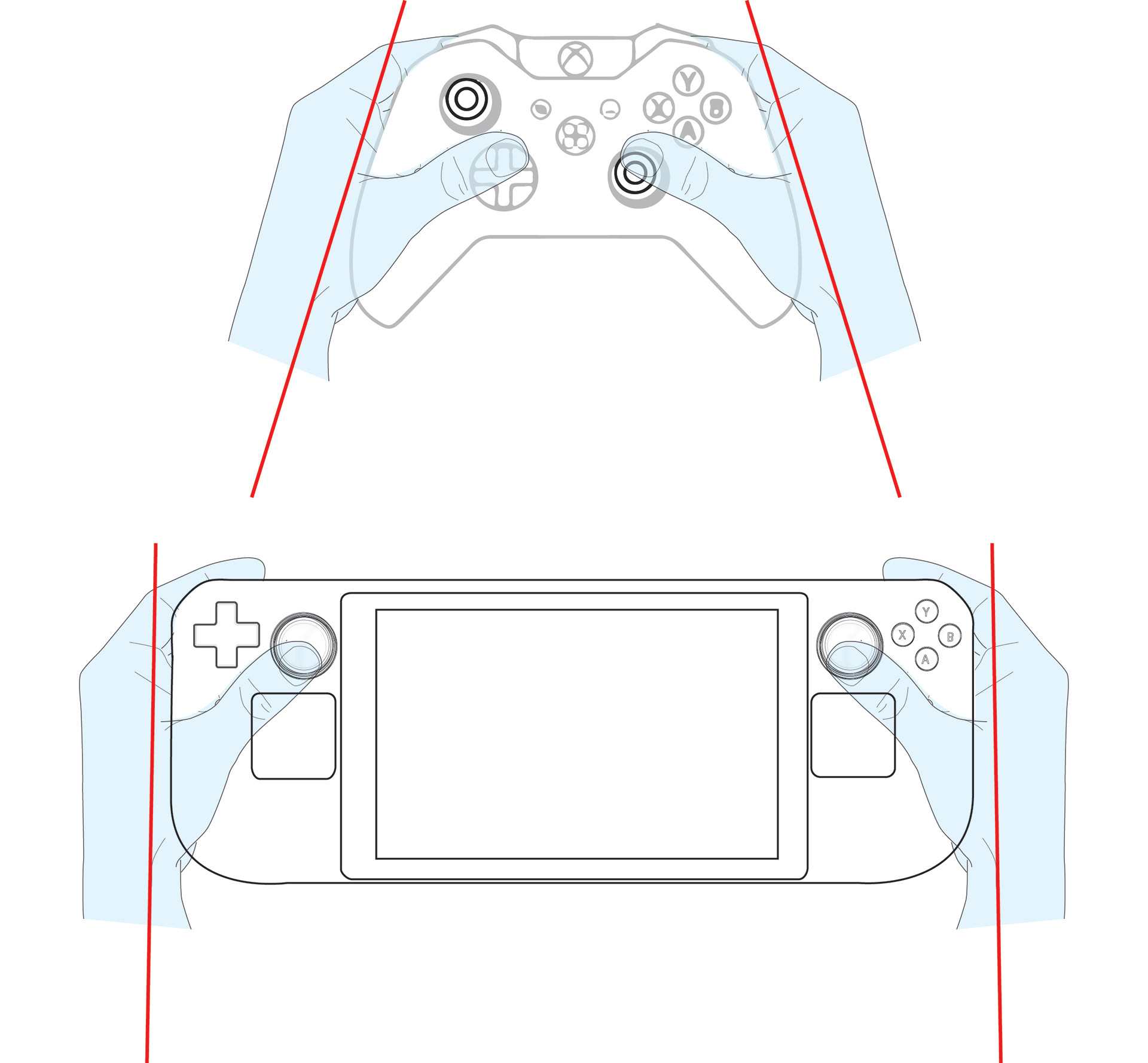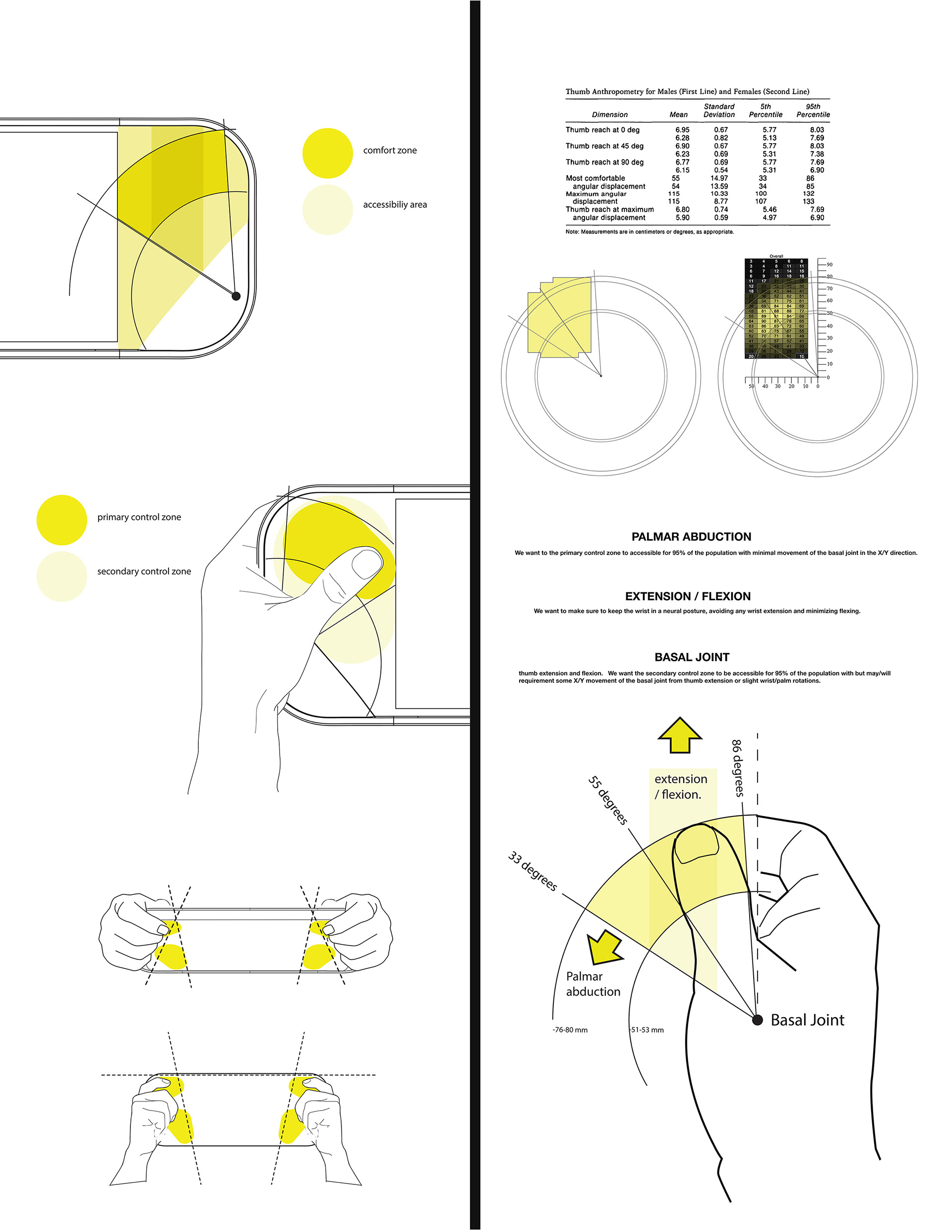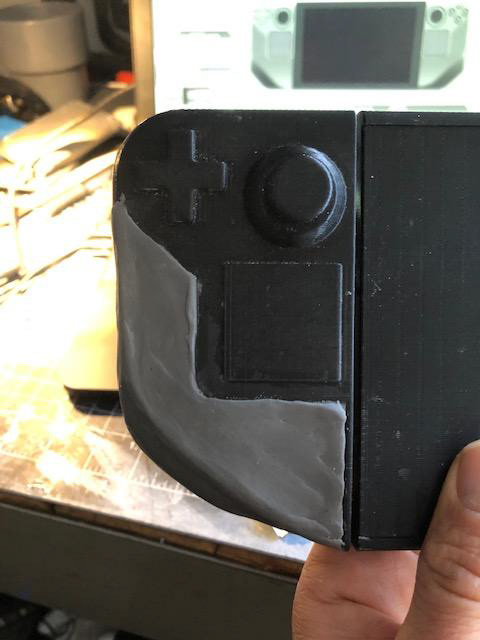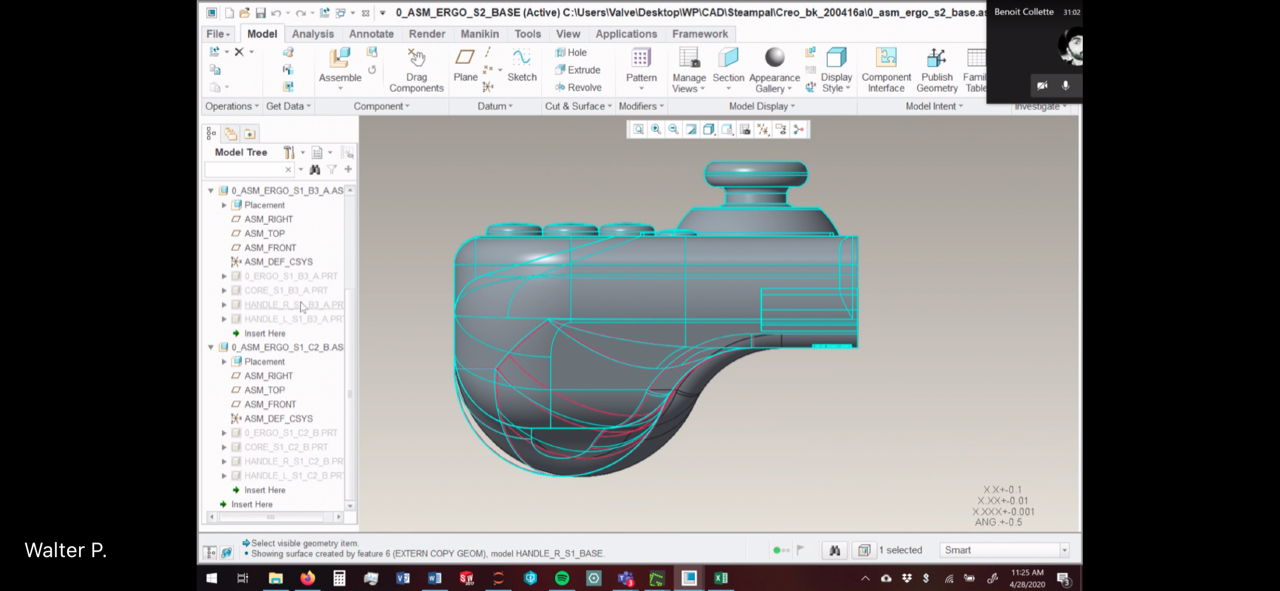 Design development
Design exploration, form development, design language, hierarchy or elements 

Each concept represents the application of a specific design methodology, translating the ergo baseline into a proposed product.
Sharing a common component core and architecture, the concepts differ in detailed input treatment, approach to surfacing, and visual presentation.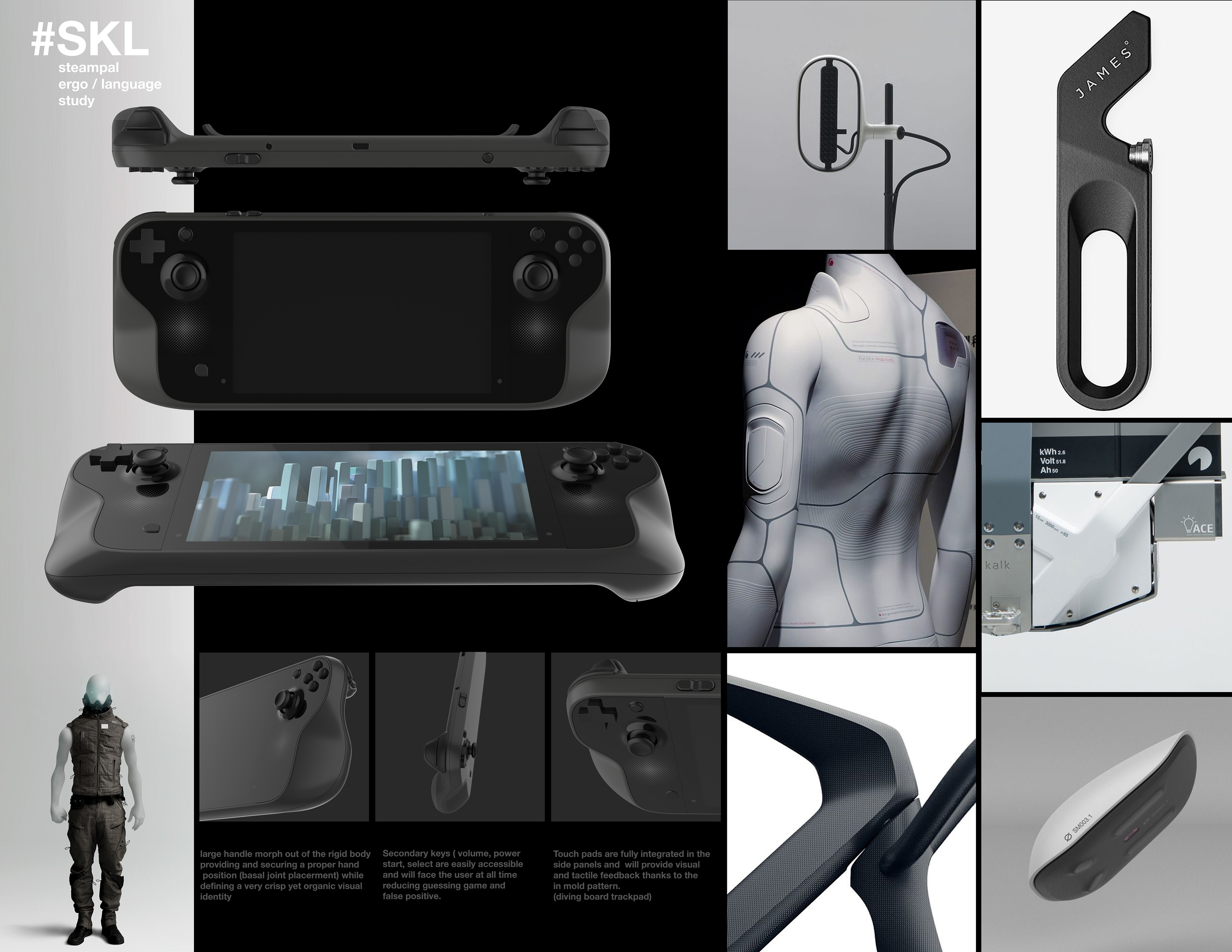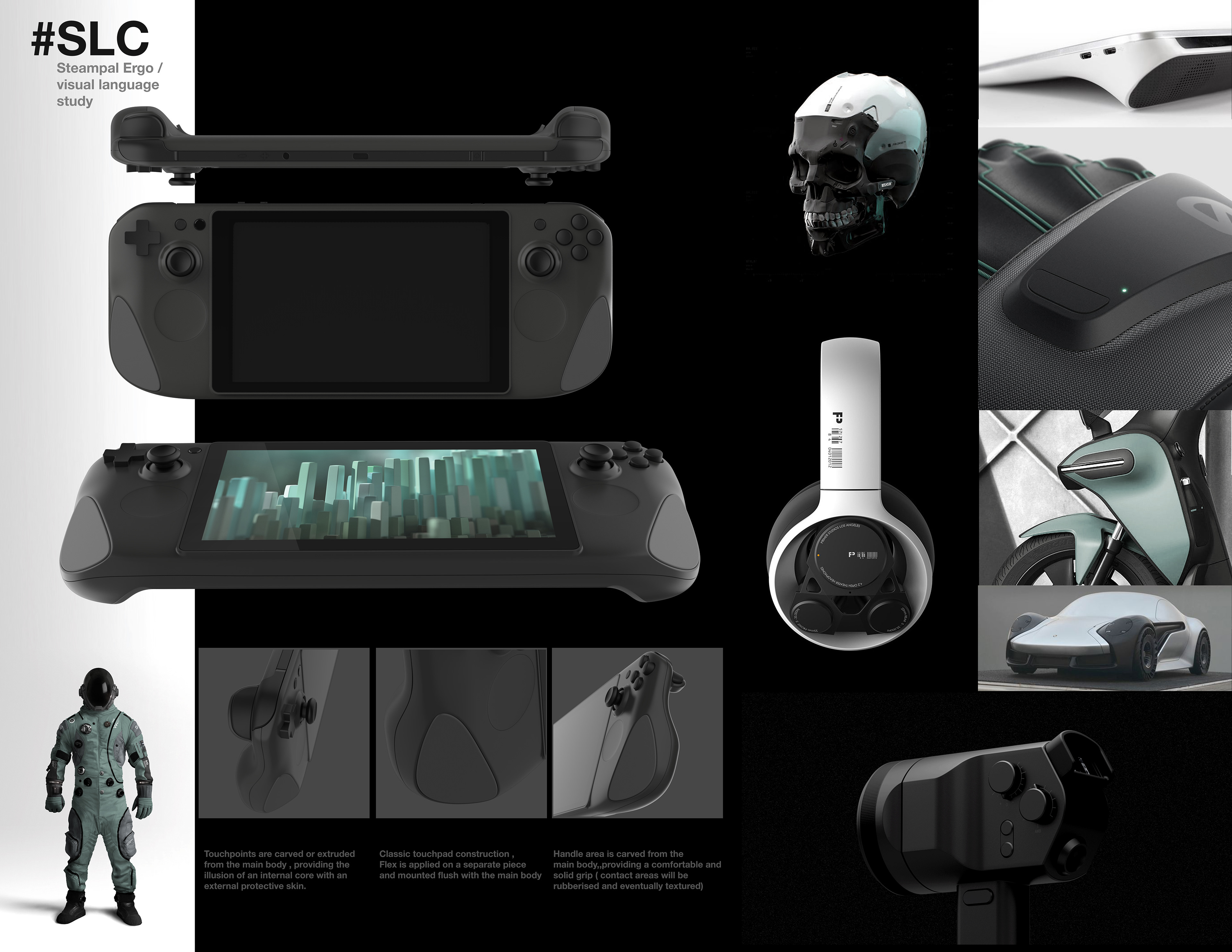 Create an approachable object that communicates both use and comfort through form
Convey order through alignment.
Leverage contrast to establish touchpoint hierarchy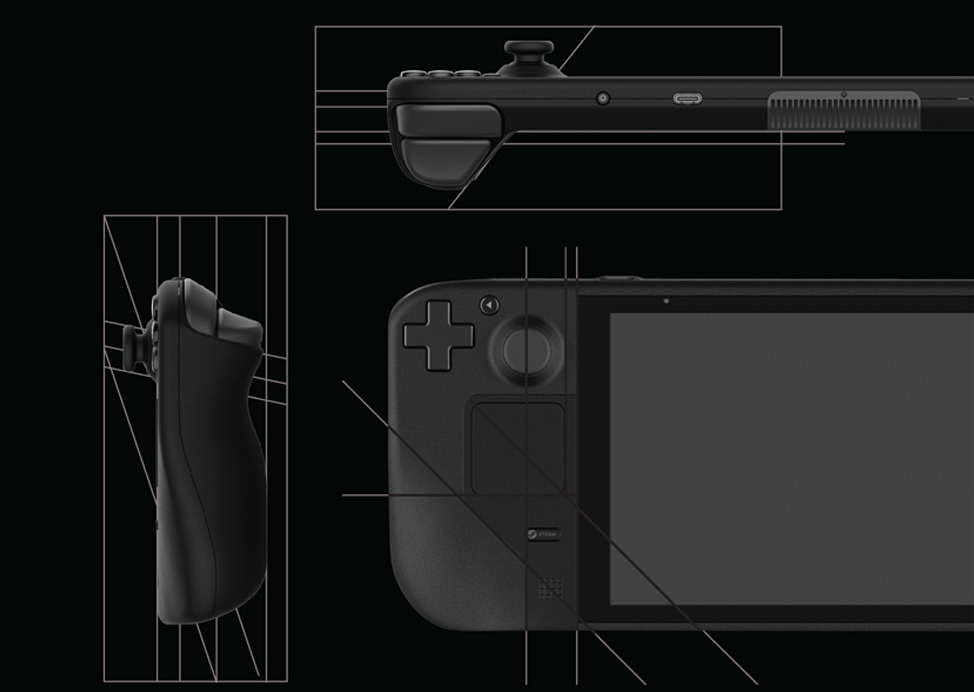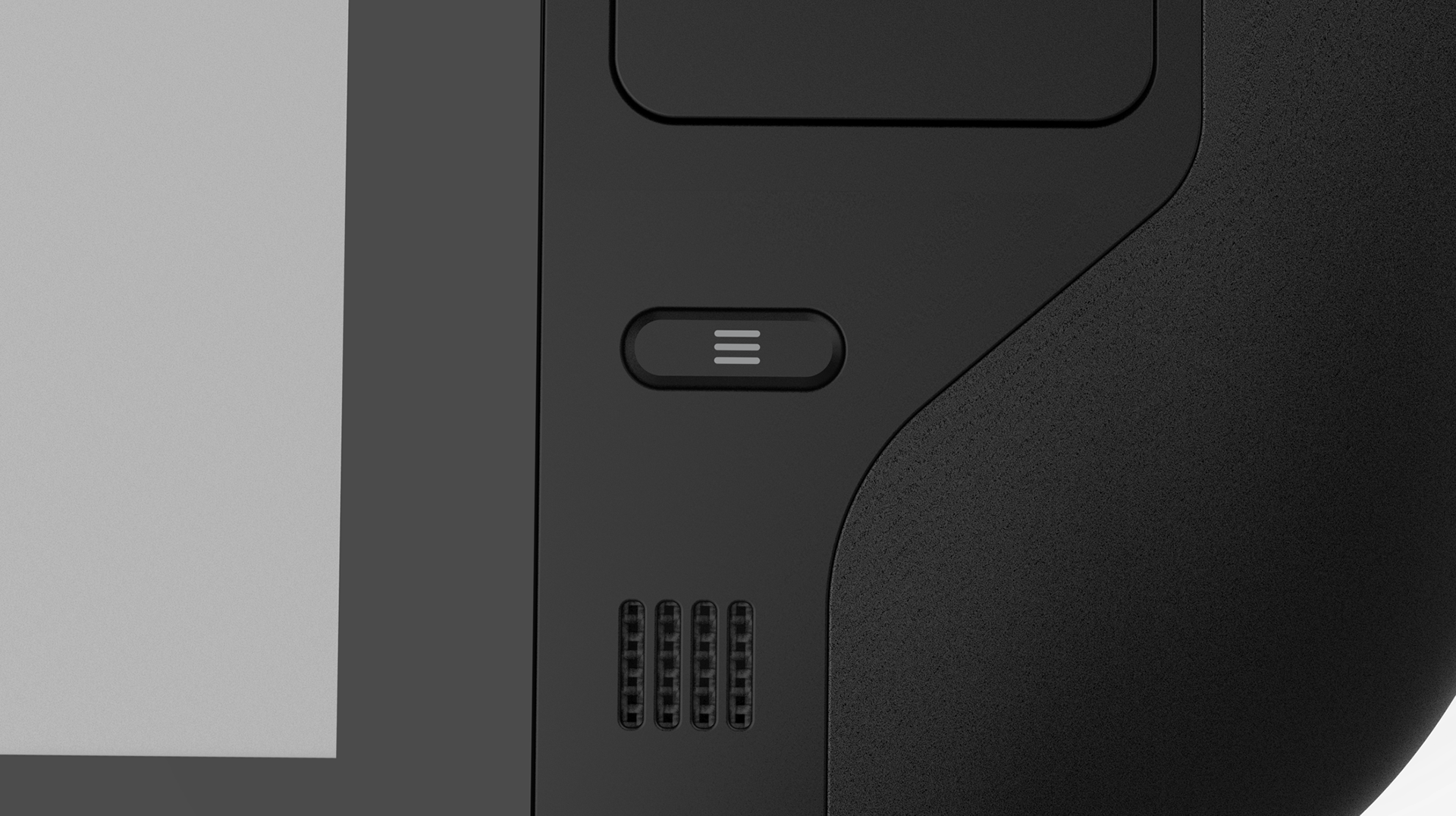 Provide a comfortable and balanced experience:
Designed for long play session on the go, steamdeck was designed from the inside out to provide the ultimate balance between size, component placement and center of gravity to rest comfortably in your hands and reduce as much as possible any pain point or fatigue in your palms and arms.
Comfort and accessibility of controls for extended play sessions.
Controls were carefully placed and tested to follow the natural arc and flexion of your thumb from the basal joint. Offering full accessibility and comfort to the 95 percentiles hands .
Raw power in the palm of your hands
Clear edge definition mixed with fluid transitions to combine a powerful core with comfortable ergonomics.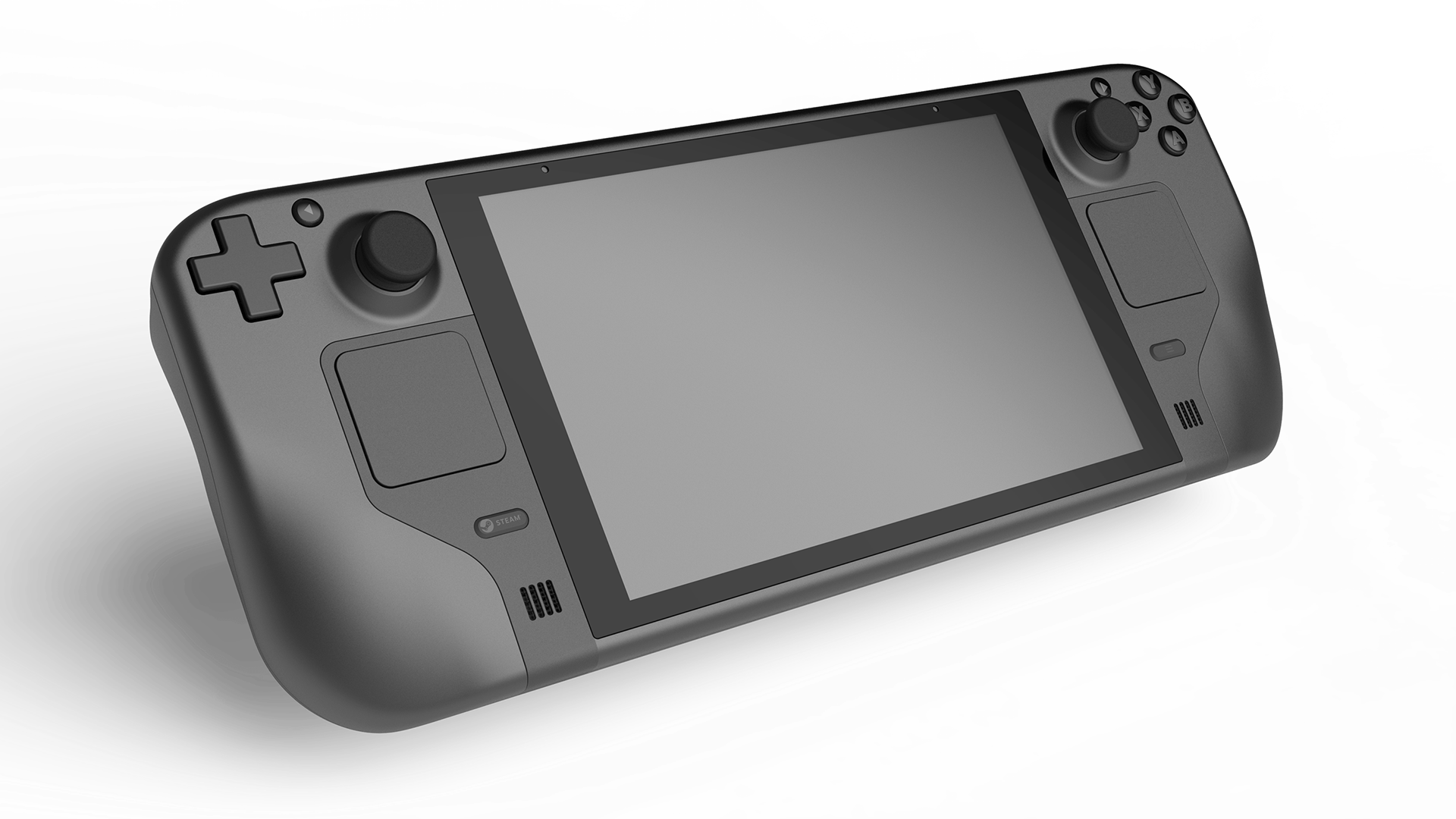 Express raw power through geometry.
Visual firmness and physical softness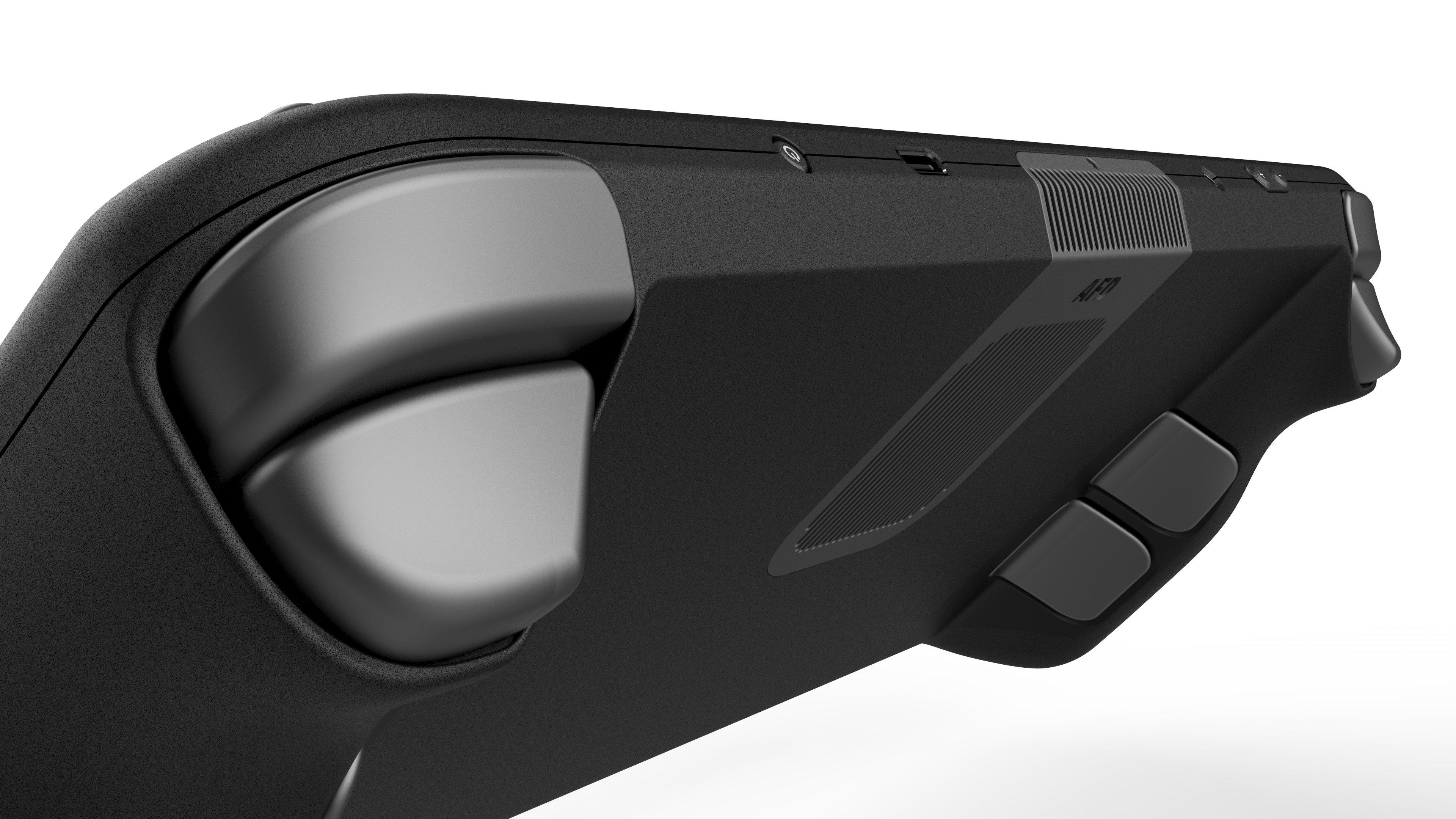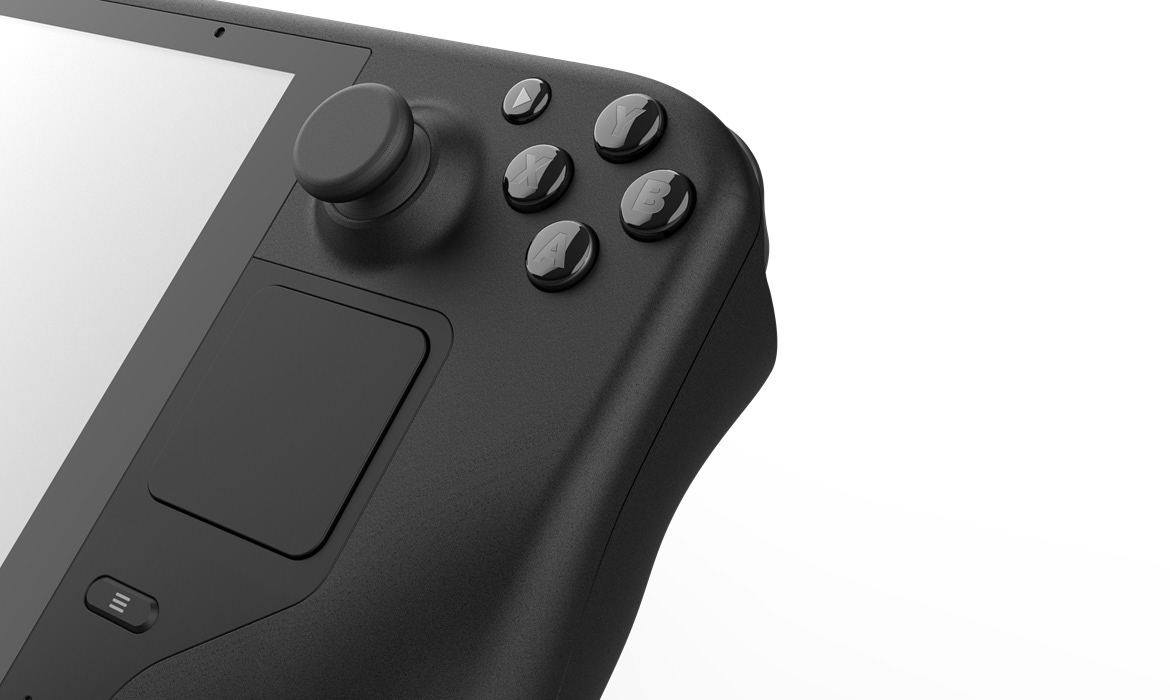 Thoughtful clustering of elements
Hierarchy of elements through texture and rhythm.
Unique graphic element that visually define a natural handle area while visually balancing the different controls.
Design refinement / execution
Form development, assembly, material choices, hierarchy or controls and visual communication


Onscreen content is the hero 
Through materials and colors exploration, we refined the visual presence/ hierarchy of elements and overall message for the Steamdeck to carry on.
Primary goal of steamdeck is to play game comfortably, both physically and visually .
On screen content is king, the device is an enabler
-Creating a clear relationship between UI and HW / high contrast readability and UI color consistency between HW and SW 
 Black and light grey hardware CMF compliments SW UI while leaving on-screen content as the primary contrast.   
Designing a Premium portable gaming experience
Clearly define premium comfort and functionality through thoughtful clustering of elements and subtle material contrast.
Balance straight lines with soft transitions to create a powerful yet inviting identity.
Rational Use of straight lines and common angles to unify the design language. 
Aligned elements create a sense of balance and proportions. 
Guide the user's eyes north toward the primary set of controls.

- Transition geometry that morphs from a top sharp edge to soft a bottom. 
Compound contoured bumper and trigger strike surfaces.
Chamfered edges (power and precision) helps refine and define the product contour

Slightly pronounced volume controls, close-to-flush power button to prevent inadvertent actuation.
Chamfer around headphone jack and USB port to allow for variation in cable over-molds.
Comfortable and accessible spacing.
Recessed power button to prevent inadvertent actuation. Geometric approach to offer visual balance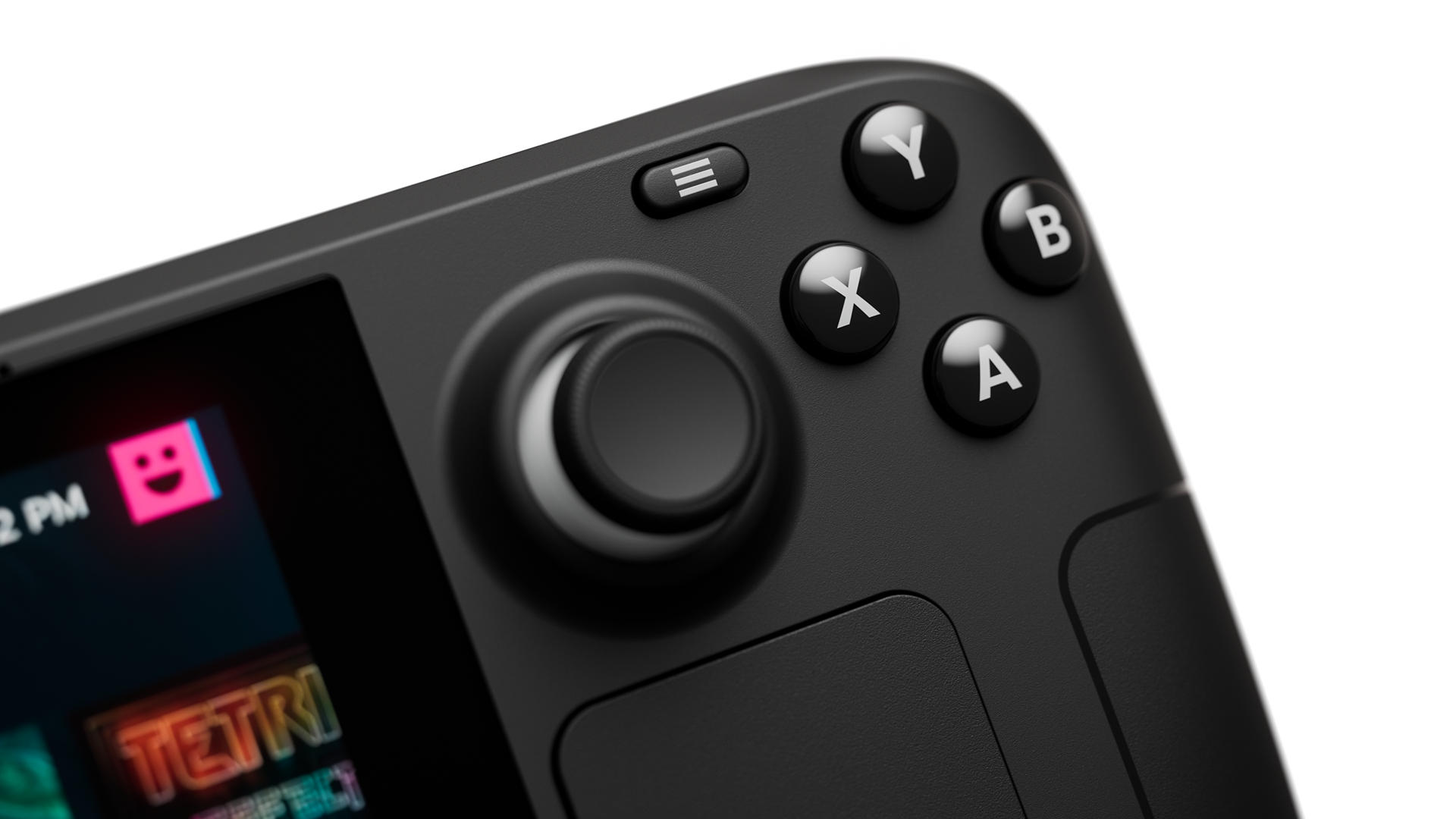 The onboard controls are optimized for quality and experience, so Steam
Deck's thumbsticks are full-size, Inverse thumb-stick volcano for additional clearance from trackpad and ABXY.
Concave thumb-stick top with pronounced inner ridge on over-mold for improved stiction
Small radius dome top on ABXY and start/back buttons for tactile registration.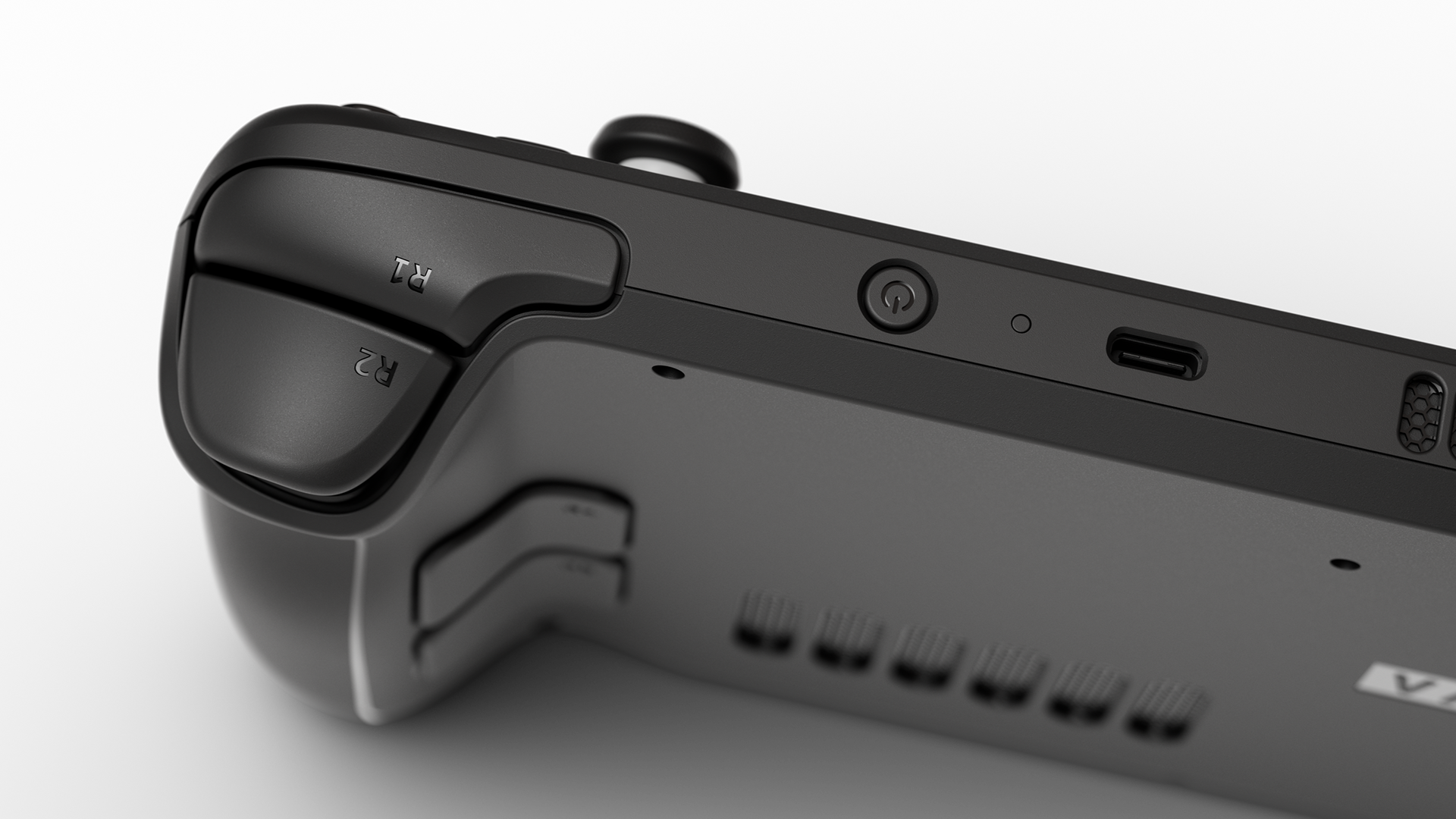 Industrial Design : Valve, Benoit Collette, John Ikeda